Clean Water U Educates, Graduates, Dedicates,
Creates and Celebrates
Presbyterian Voice, April 2004

Clean Water U, an idea that came out of a staff brainstorming session with David Snellgrove, Steve Young and Wil Howie last May, has quickly become a reality. The idea was to find a way to train more people to use the simple technology of the water purification system invented by engineers in the Synod a decade ago. Synod-led teams have installed 17 units in Mexico, Haiti and Central America. But now, with 50 people already trained at Clean Water U, the gallons of clean water can multiply and flow rapidly, as a commitment to install 13 systems worldwide has resulted from this first session.

Project coordinator Wil Howie, at far right, told visitors and graduates at the dedication ceremony that he hopes Presbyterians will become known as "The Water People."
.
The first class to graduate from Clean Water U, on March 20, 2004, included people from all around the country. The first building on the campus at Camp Hopewell in north Mississippi has been built and dedicated to the Glory of God in honor of two wonderful Presbyterian women in St. Andrew Presbytery, Katy Bryson and Frankie Lawler.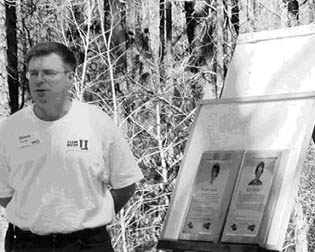 Steve Young, project administrator, reads the plaques at the dedication ceremony
honoring Katy Bryson and Frankie Lawler.

The property on which Clean Water U is located, remote and hilly, will replicate conditions the installation teams may encounter in Third World countries. That's part of their education at Clean Water U. They also learn about health education, the spiritual component of water, and the development of partnership skills.
.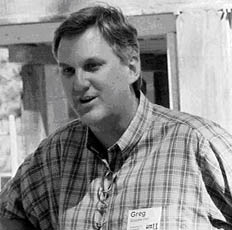 St. Andrew Presbytery Executive Greg Goodwiller, said the presbytery is happy to be able to provide a location for Clean Water U.

More classes are planned for the coming months and more buildings will be built. The property for Clean Water U was given to this unique mission project of the Synod of Living Waters by the Presbytery of St. Andrew.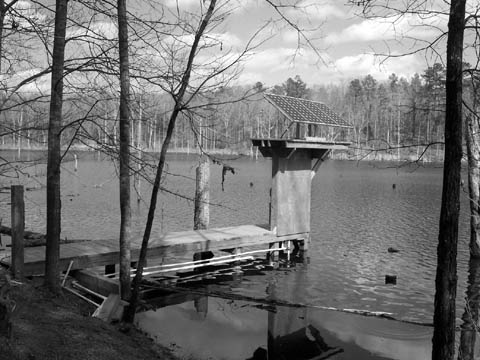 A solar pump installed on a pier at Lake Andrew sends water uphill to the tanks supplying the system at the first building.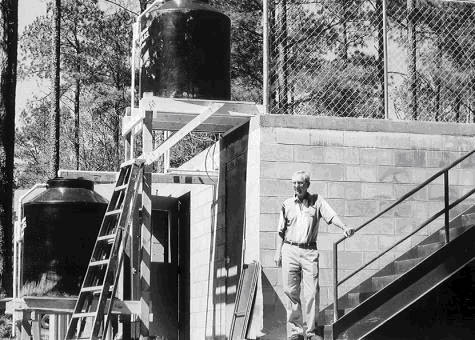 Synod Executive David Snellgrove stands at the foot of the stairs leading to the roof of the first building at Clean Water U. Water storage tanks are visible at left.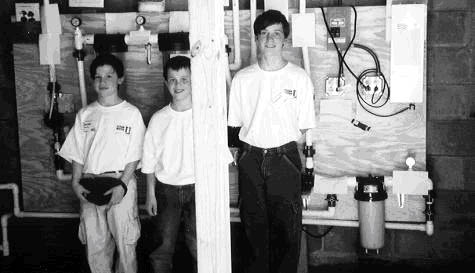 Tim, Daniel and Samuel Plouff came with their mother and father from Haverhill, Massachusetts to learn how to install a water system as a family project in South Africa.