By RALPH YOUNG

Misty Johnson, the former In-Country Coordinator for the LWW's El Salvador Network, had been living in El Salvador near the capital, San Salvador, for about four years with her husband and two pre-school children.
Within the past year, the political climate in El Salvador reached the point where Misty felt that her family was not safe, no matter how much reassurance she received from local law enforcement.
Taking matters into her own hands, Misty resolved to leave El Salvador with her children and return to the United States to live with her parents. The bad news was that her husband, Daniel, could not accompany them because he could not get a visa. U.S. immigration policy required that the family be separated for a period of time before granting a visa.
Fortunately for LWW, Daniel was able to serve as the in-country coordinator for Misty in her absence.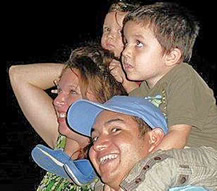 will be moving to Richmond to start a new life.
The good news doesn't end there. Because of Misty and Daniel's efforts over the past several months and the dedication of the El Salvador Network Coordinating Team, the Living Waters for the World network in El Salvador has been restored to full network status in early August.
Team Moderator Mona Lee has been tireless in scheduling meetings, conference calls, - doing whatever it takes to restore the El Salvador Network.
The coordinating team of Robert McCrary, Lee Stovall, Tom Ritter, Tracey King-Ortega, Bill Perry, and Kristi van Nostran have all contributed.
Let's offer a prayer of thanksgiving for this dedicated team and their service to the Salvadoran people.
---
Ralph Young is a CWU 103 lead instructor, leader of the Design Sub-team, LWW's Network and< Sustainability Services Coordinator and an elder at First Presbyterian Church of Paducah, Ky.
During this period, Daniel was able to help installation teams and do follow-up work on several systems in the network.
As with many of us in Living Waters for the World, God was watching over Misty and her family. In June, Misty and her children were reunited with Daniel in the U.S. Soon afterward, Misty found a job working for Care International in Richmond, Va. In the near future, they


They found that, while we do well in some areas, we have room for improvement in others. Study results will be a topic of intense discussion at future meetings of our leadership teams.
These three young professionals demonstrated a pioneering spirit in choosing LWW as the focus for their master's theses.
---
Susan Bradish, an instructor in CWU 102, attends Troy Presbyterian Church in Nicholasville, Ky.
By SUSAN BRADISH
Like any mission program, Living Waters for the World needs help from experts from time to time to know how it is doing.
Three recent graduates of the master's degree program at Rollins School of Public Health, Emory University in Atlanta — Janelle Hartman, Joanna Galvez and Stephen Crabbe — focused their theses on
detailed program assessments of several LWW systems in the Yucatan.
Their topics included:

• Sustainability, both operational and financial.
• Bottled water consumption, based on consumer interviews.
• Water quality analysis, both at treatment systems and in households.